Single Review: Basement Jaxx – 'Back 2 The Wild'
2 min read
If there's one thing that UK dance maestros Basement Jaxx do well, it is creating tunes that coerce the listener into getting up off their seats to boogie the night away, and their latest single, Back 2 The Wild, does just that.
Back 2 The Wild is a typical musical statement from one of house music's most joyously experimental outfits – indeed, not 'typical' at all! – as the Brit duo tear apart their own rulebook, juxtaposing samples of tribal horns, beats and even roaring lions (all of which were allegedly recorded in Kenya) with bubbling electronica to create an exotic sound. Whilst at moments the track – which is released via label 37 Adventures – can sound positively hectic in the crescendo of numerous different sounds, Back 2 The Wild manages to work.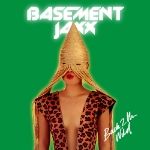 Premièring on DJ Annie Mac's buzz-worthy BBC Radio 1 show, it is impossible not to sit up and take note of the track – and for good reason. The maelstrom of noises are held together with vocals provided by Korean Seoul Sisters – Miss Emma Lee and Baby Chay – chanting the lyrics "I hear nature calling me/ I wanna go back, back to the wild, to the jungle", it is a raucous party jive; the assault is relentless, and the funky groove grips and does not let go!
Sources claim that, whilst there is no new Basement Jaxx album that is currently in the works, there are more 12" singles due in the near future.
Buy 'Basement Jaxx – Back 2 The Wild' from Amazon
::: covering reviews and interviews for the latest music releases on RenownedForSound.com